This is very good for GreenSpaces!

Soon, drive to Agra in two hours
3 Dec 2008, 2258 hrs IST, Dipak Kumar Dash, TNN
NEW DELHI: With the National Highways Authority of India (NHAI) inviting bids for the six-laning of Delhi-Agra stretch of NH-2, driving down to the Taj city may soon be a smoother and quicker ride. Once completed, it would take not more than two hours to cover the 180km from Delhi to Agra as the maximum speed on this stretch would be 100 kmph.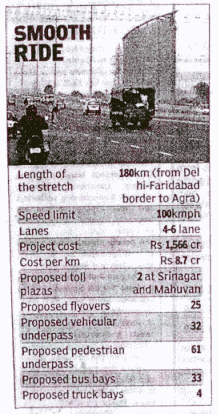 NHAI sources said the date of the pre-bidding conference has been extended to December 18 and the revised last date of submitting bids has been fixed on January 12. The Rs 1,566 crore BOT project takes off from Delhi-Faridabad border, and traverses the districts of Agra, Mathura in Uttar Pradesh and Faridabad in Haryana.
"We are hopeful of good participation in the pre-bidding conference and of awarding the project soon. However, we are little skeptical of the impact of financial meltdown," said a senior NHAI official.
For uninterrupted traffic flow on this proposed six-lane access control highway, NHAI proposes construction of as many as 25 flyovers at all the major junctions throughout the stretch wile the minor ones would be done away with. To meet the operational objective of maintaining uninterrupted flow of traffic without reducing the speed to accommodate entry, exit or cross movement of other traffic, there are proposals for construction of 32 vehicular and 61 pedestrian underpasses besides having 76 entry and exit points to the partially access-controlled highway.
Done reading? subscribe: To get an automatic feed of all future posts subscribe here, or to receive them via email enter your email address in the box in the right column.
Posted under: Report | Trackback Link | Permalink |
You can follow any responses to this entry through the RSS 2.0 feed. Both comments and pings are currently closed.