Barack Obama's Green Master Plan


by Rajiv Tikoo, Financial Express, January 26, 2009
WHEN Barack Obama talked about harnessing renewables in his presidential address, he was summing up the agenda of his new green deal for an energy secure United States unveiled during his election campaign.
The New Energy for America plan provides for an investment of $150 billion over ten years to fuel private endeavours in clean energy, generate five million green jobs, do away with imports from the Middle East and Venezuela, generate 10% electricity from renewables by 2012, deploy 1 million US-made plug-in hybrids by 2015, and reduce greenhouse gas emissions 80% by 2050 and make the US a leader on climate change…
Read the full article here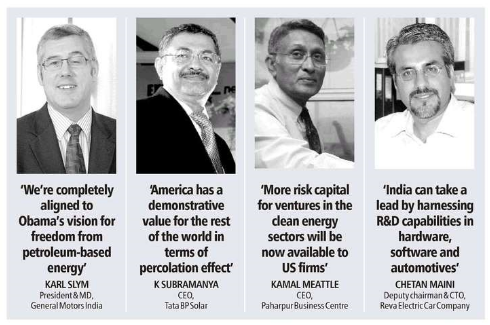 Done reading? subscribe: To get an automatic feed of all future posts subscribe here, or to receive them via email enter your email address in the box in the right column.
Posted under: Press | Trackback Link | Permalink |
You can follow any responses to this entry through the RSS 2.0 feed. Both comments and pings are currently closed.